Affordable Business Intelligence with Dynamic AI 6.4

At a time when business intelligence (BI) is increasingly in the news, as the 'must have' technology for small to medium sized organisations, Dynamic AI Revision 6.4 – a complete, browser-based, affordable business intelligence tool (created by Cintac) – has been released with new features and a new pricing policy introducing lower cost licensing.
Using Dynamic AI, all of your organisation's data becomes available and relevant, improving your forecasting and planning, and helping you to evaluate the success of business decisions. The extensive reporting features within Dynamic AI enable you to analyse data from a number of sources, such as databases, data warehouses and spreadsheets and present your results as graphs, charts, tables and lists.
Because Dynamic AI is so easy to use, end users can take control of producing their own reports, eliminating the need to wait for technical staff. Middle managers can quickly access information at any level, observing daily, weekly and monthly trends, drilling down to the lowest level and using that information to make key decisions.
With Dynamic AI enabling your business users to run their own reports and analyse the results, integrating your BI projects with your business processes becomes part of the process – which is critical to the success of any BI implementation – identifying where opportunities exist and savings can be made, maximising your return on investment.
For those of you who are on the move, you can access your Dynamic AI reports from your mobile device, with reports being delivered in the browser, as files, via email, SMS and other messaging systems.
---
Dynamic AI New Features At A Glance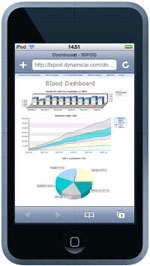 Dynamic AI was already packed with features, such as:
quick access via drop-down menus, appropriate and specific to each column header
drag and drop of columns to assist with report design
the ability to instantly UNDO changes to live reports
AI Automated Intelligence, for analysing a data source and presenting the output in a dashboard
a range of graph styles for presenting information
Revision 6.4 goes further in helping both end-users and developers, to quickly gain access to data and present it in the most appropriate fashion with the following new features:
On-report calculations – to simplify the addition of calculated columns and allow end-users to make calculations that previously would have been exported to a spreadsheet.
Cross-report calculations – to enable key-figures to be referenced across reports.
Calendar reports with conditional formatting – a new report type, based on periods of time.
Additional pre-programmed calculation options – (% of row, % of column) to provide totals for grouped values on rows and columns.
Calculated column support on column-grouped reports.
Prefix and suffix options for totals – to qualify the type of an amount, e.g., £, $ and %.
Filter defaults – to provide a number of filters, particularly date related filters.
Multi-select report option for dashboard creation – to allow users to quickly create new Packages and Dashboards from the Report Menu.
New, additional actions for drop-down column menus.
Dictionary caption inheritance – to automatically include the already entered captions of known underlying dictionary objects to a newly created dictionary object of a Join-builder view.
Dynamic AI is available in multiple editions, such as, a free Personal edition for non-commercial use, a single user Desktop edition, a Server edition for up to 50 users and in a scalable Enterprise edition for higher numbers of users.
---
New Dynamic AI Pricing Policy
Changes to the Dynamic AI pricing policy, mean that Dynamic AI is more affordable than ever before. In particular, there are now two types of Server Edition:
1. Concurrent User Servers – This type of Server Edition allows you to create any number of users, yet only the number of licensed users can access the Dynamic AI server concurrently. For example, for 10 Dynamic AI users (who create, modify and distribute reports), having 5 concurrent licences would allow 5 of the 10 users to be using Dynamic AI at any one time.
With this edition, there is a minimum of 5 concurrent users, and all concurrent users have the same level of Dynamic AI functionality, e.g., create, modify, use and distribute reports.
The Concurrent User Server Edition is an ideal alternative to the Enterprise Edition, for organisations who do not have a high user count or require high availability demand.
Note, although there is no maximum number of licensed users for this edition, the Enterprise Edition is recommended where there are more than 50 concurrent users .
2. Named User Servers – This new addition to the pricing policy introduces the following categories of Dynamic AI users:
Author: An Author is a user that may create and/or modify reports, and has full access to the Administration capabilities of Dynamic AI. Authors are Viewers too – they can run and use existing reports.
Viewer: A Viewer is a user that may only run and/or use reports created by Authors. A Viewer can make ad hoc changes but cannot create and/or modify and save reports.
The Named User Server Edition, provides a lower cost option than the Concurrent User Server Edition, particularly if you have a small number of authors creating your reports, and a larger number of users using the published reports.
For example, if you a have a single user who produces your reports, and three other users who use the published reports, then the Named User Server Edition offers you a significant cost saving over the Concurrent User Server Edition (entry level 5 users) £6820.